Key Takeaways
Horsepower is directly proportional to the engine's RPM and torque.
Horsepower is calculated using the equation: Horsepower = Torque x RPM ÷ 5252.
It plays a crucial role in determining a tractor's abilities, including pulling implements or plowing fields.
The necessary horsepower depends on the job type.
For most lawn tasks, 15-20 horsepower is sufficient.
For demanding tasks such as plowing or tilling, a tractor with 50-100 horsepower or more may be required.
How Much Horsepower Does a Tractor Need?
Imagine standing before an army of tractors, each varying in size and strength, ready to tackle any task.
But which one should lead the charge on your farm?
The answer lies in the heart of these mighty machines: horsepower.
A tractor's engine power is critical in determining its capabilities and your farm's success. But with brands like John Deere and Yanmar offering lots of options, how do you know which iron steed is suitable for you?
Fear not!
In this article, we'll delve into the world of tractor horsepower, guiding you through the essential factors to consider when choosing the perfect tractor for your needs.
Understanding Tractor Horsepower
If you're in the market for a tractor, you've likely come across the term "horsepower." But what exactly is tractor horsepower, and how much do you need?
In this section, we'll cover the basics of tractor horsepower, the different types of tractors and their horsepower ranges, and the factors to consider when determining your tractor's horsepower needs.
What is Tractor Horsepower?
Tractor horsepower is a measure of the engine's power output. It's the amount of work the engine can do over time, usually measured in horsepower (hp) or kilowatts (kW).
The more horsepower a tractor has, the more work it can do, such as pulling heavy loads or operating large attachments.
This chart shows the equivalent of 1 mechanical horsepower (hp), 1 metric horsepower (PS), 1 watt (W), and 1 kilowatt (kW) in terms of horsepower.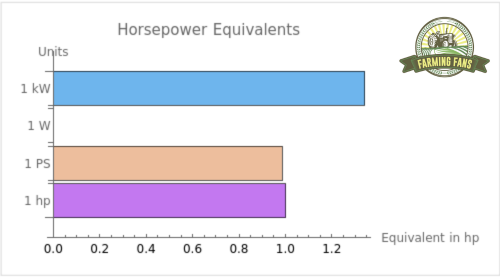 This can help you understand the concept of horsepower and its equivalents in different units, which is relevant to the topic of tractor engine horsepower.
How Much Horsepower Do You Need?
The amount of horsepower you need depends on the type of work you'll be doing. For example, if you're using your tractor for light-duty tasks like mowing the lawn or plowing a small garden, a compact tractor with a 15-20 horsepower range may be sufficient.
However, if you're using your tractor for heavy-duty tasks like tilling large fields or pulling heavy loads, you'll need a utility tractor with a higher horsepower range, such as 21-35 horsepower.
Types of Tractors and Their Horsepower Ranges
There are several types of tractors, each with its own horsepower range.
Compact tractors, as mentioned earlier, typically have a horsepower range of 15-20 and are ideal for small-scale tasks.
Utility tractors, on the other hand, have a horsepower range of 21-35 and are suitable for medium to heavy-duty tasks.
Larger agricultural tractors have a horsepower range of 45-600 and are used for commercial farming operations.
Factors to Consider When Determining Tractor Horsepower Needs
When determining your tractor's horsepower needs, there are several factors to consider. These include the type of work you'll be doing, the size of your land, the terrain, and the attachments you'll use.
The table below shows the horsepower ranges, kinds of jobs, and an example of the tractor that can be used in that situation.
| | | |
| --- | --- | --- |
| Horsepower Range | Type of Work | Tractor Example |
| 15-20 HP | Small-scale tasks, lawn mowing, gardening | John Deere 1025R |
| 21-35 HP | Medium-duty tasks, small farm work | Yanmar SA324 |
| 36-60 HP | Heavy-duty tasks, larger farm work | Kubota M4 Series |
| 61-100 HP | Commercial farming, heavy lifting | Massey Ferguson 4700 |
| 100-200 HP | Large-scale farming, advanced tasks | Case IH Maxxum Series |
| 200+ HP | Industrial farming, demanding tasks | New Holland T8 Series |
Why Do Tractors Have Low Horsepower?
You might wonder why tractors come in such a wide range of horsepower. It's all about the variety of tasks and environments that tractors are designed to handle.
Here are some reasons why tractors have low horsepower:
1. Cost
Tractors with lower horsepower are typically more affordable due to their smaller engines and fewer features. They can be an excellent option if you're on a budget.
2. Fuel Efficiency
Lower horsepower tractors tend to be more fuel-efficient, using less fuel to achieve the same amount of work. They're ideal if your operations are on a smaller scale.
3. Maneuverability
Smaller, lower horsepower tractors are often more maneuverable, ideal for tight spaces or uneven terrain.
4. Maintenance
With fewer moving parts and less complexity, lower-horsepower tractors can be easier to maintain.
While low-horsepower tractors are excellent for smaller operations, large farms or heavy-duty tasks may necessitate a tractor with higher horsepower.
What Tractor Has the Most Horsepower?
The more horsepower a tractor has, the more powerful it is and the more work it can do. If you're wondering what tractor has the most horsepower, the answer is quite surprising.
The current record holder for the most powerful tractor is the Big Bud 747, manufactured by the American company Big Bud.
This behemoth of a machine boasts an incredible 1,100 horsepower, making it one of the most powerful machines ever built.
To put that into perspective, the average car has around 150 horsepower and even the most powerful sports cars rarely exceed 600 horsepower.
The Big Bud 747, on the other hand, has almost double that amount of power, making it an absolute monster of a machine!
Despite its enormous size and power, the Big Bud 747 is still a fully functional tractor that can be used for farming and other heavy-duty tasks.
It was originally built in 1977 at a cost of $300,000 for a Montana farmer who needed a machine that could handle his large-scale farming operations.
Since then, it has become a legend in the farming community and a symbol of American engineering prowess.
Of course, the Big Bud 747 is an extreme example; most farmers don't need that much horsepower. The average horsepower for a modern tractor is around 100-150, which is more than enough for most farming tasks.
However, if you have a large-scale operation or need to tackle particularly challenging tasks, a high-horsepower tractor like the Big Bud 747 could be just what you need!
Horsepower Vs. Torque
When it comes to tractor engines, two terms you'll hear quite often are horsepower and torque.
While they may sound similar, they are two different things that play essential roles in the performance of your tractor.
In this section, we'll take a closer look at the differences between horsepower and torque.
Horsepower
As mentioned earlier, horsepower is the measure of power, indicating how much work an engine can perform over time.
The more horsepower an engine has, the more work it can do, and it is often used to describe the overall power of a tractor's engine.
Torque
Torque, on the other hand, is a measurement of the twisting force that an engine can exert.
In simple terms, if horsepower reflects how fast a tractor can perform work, torque is about the strength or force the tractor can exert to initiate that work.
A tractor with a high horsepower rating can move quickly but may not be able to handle heavy loads.
A tractor with high torque can handle heavy loads but may not be able to move as quickly as one with high horsepower.
Horsepower and Torque Relationship
It's important to note that horsepower and torque are related. In fact, horsepower is calculated from torque.
The equation is:
Horsepower = (Torque x RPM / 5252
This means an engine with high torque at low RPMs can still have high horsepower.
However, an engine with increased horsepower but low torque may struggle to perform specific tasks.
A balance between the two is ideal for maximum performance and efficiency.
Related Questions
What Is the Difference Between Gross and Net Horsepower?
Gross horsepower is the maximum power output of an engine without any accessories or power losses from the transmission, generator, or other components.
Net horsepower, on the other hand, is the power output of an engine with all accessories and power losses accounted for.
Net horsepower is a more accurate representation of the engine's actual power output.
What is PTO Horsepower?
PTO HP is the power output of a tractor's power take-off (PTO) shaft. The PTO is a spinning shaft that transfers power from the tractor's engine to an implement, such as a mower or baler.
PTO power is typically lower than gross or net because it is measured at a lower engine speed.
What Is Drawbar Horsepower?
Drawbar horsepower is the power output of a tractor's drawbar, a metal bar located at the rear of the tractor used to pull implements. 
Drawbar horsepower is measured by pulling a weighted load fitted with a strain gauge to determine the pull. It measures the tractor's pulling ability and is different from PTO horsepower.
How Much Tractor Horsepower Do I Need?
The amount of horsepower you need depends on the size of your land and the type of farming application you plan to use the tractor for.
Generally, you should aim for a tractor with at least 20 horsepower per acre of land you plan to work. However, terrain, soil type, and the size and weight of your implements can also affect how much power you need.
If you plan on buying a tractor, it is best to consult a dealer or salesperson to determine the appropriate horsepower and decided which tractor and engine HP option is best.