John Deere tractors are green as they have been since they started producing tractors in 1918 as the company has always been associated with the fresh color.
Waterloo Boy
John Deere began producing tractors in 1918 after buying out a tractor manufacturer known as the Waterloo Engine Company.
At the time, John Deere traded under the company name of Deere and Company. They were producing agricultural equipment for farmers after engineering a unique steel plow.
Deere entered the tractor business in 1918, releasing two models, one called The Waterloo Boy and the second tractor called The John Deere.
They produced these tractors in green as it was both the color of John Deere's agricultural equipment that they were making and the tractors from Waterloo Engine Company.
It's hard to say with certainty why John Deere settled on the green and yellow colors initially. Perhaps it was to stand out from their competitors, such as Massey Ferguson or Case IH. They were predominantly red at the time.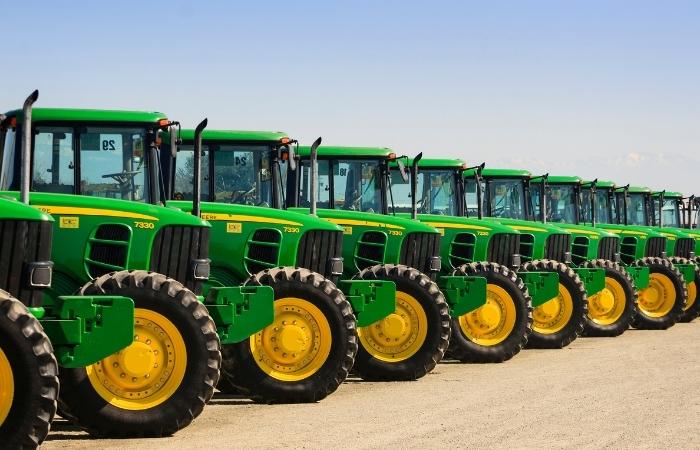 Agricultural Colors
Green is a very agricultural color, if you can call it that, and has a strong association with farming in general. You could look at the green and yellow used by John Deere as representing the different stages of the growing year.
The green would represent a fresh start, new beginnings in spring as crops are planted, and little green seedlings appear and start the growth process to become a mature crop.
The yellow represents the other end of the growing year as crops mature, are harvested, and farmers see the fruits of their hard year's labor.
John Deere would have felt that using the green and yellow colors made their brand more relatable to farmers who would be their primary customers.
Green Vs Red
Having their tractors painted in their trademark, John Deere green paint allowed them to stand out from their direct competition in the tractor market. You had the red tractors of Case IH and Massey Ferguson and the unique blue tractors produced by Ford.
I came across a funny little story in my research into this that I think you may enjoy.
In the early days of John Deere tractor production, it was said that the competition needed their tractors to be painted red. This was so that the repairmen could easily locate them when they were broken down and left stranded in the middle of a field.
Clearly, John Deere felt their tractors wouldn't have this problem and went against the grain with the striking green color.
It's unclear how true this really was back in the early twentieth century. I can tell you, however, whatever accuracy was in it back then has long since deserted John Deere tractors!!
John Deere became known for purchasing other company's and taking on that company's staple product in the line of agricultural machinery and making it their own.
They did this by manufacturing farm equipment in the now world-famous John Deere green and yellow. It was an effective effort in building brand awareness and identity as the company has stood the test of time.
Related Questions
Are John Deere Tractors Always Green?
Green with yellow wheel rims is the most common color for John Deere tractors. There may be some limited edition black John Deere tractors produced. People could also have had their tractors re-sprayed any color they wished, as unconventional as it may look.
I have witnessed some highway maintenance tractors myself made by John Deere but had been re-sprayed a bright Yellow or Orange color. This would be to increase the visibility of the tractor for oncoming traffic.
Why is Some John Deere Equipment Yellow?
John Deere's construction equipment is indeed yellow with black trim. This is very similar to the color scheme we would associate with construction equipment rivals Caterpillar. John Deere uses the yellow color scheme on its construction equipment to firstly separate that side of its business from the agricultural equipment it produces.
How Has John Deere Changed Their Logo?
The John Deere logo has seen some minor changes since they designed their first in 1873. However, the core of it has remained the same to this day with its famous leaping deer. The John Deere logo represents the quality that backbones all their products. It means the company's integrity to be still a mainstay in the agricultural equipment market despite the many changes in agriculture over the years.
It represents the innovation to keep moving with the modernization of the world while remaining committed to every one of their customers. And to continue to deliver time and again at the top table in the agricultural equipment world.
John Deere Vision
It's hard to pinpoint why exactly green was chosen initially by John Deere. Perhaps it was just his favorite color or had meaning within his local area. Or maybe he could relate that color to a family member or old friend he wanted to be remembered.
I feel there are probably elements from all the provided explanations that contribute to the overall answer. They wanted to produce a reliable tractor; they wanted to stand out from the crowd by having a unique product as any successful business would. John Deere wanted to build their brand awareness among the farming community.
On top of all the business-driven reasons for settling on John Deere green to represent their brand, I feel there is also a small personal reason for choosing green.
My personal favorite is the agricultural imagery that the classic green and yellow represent. A deeper level of thought goes into combining green and yellow as the product colors represent growth through green and the ripening and harvest of a crop through yellow.