A tractor battery can be expected to typically last from six to eight years, depending on battery quality, daily usage, and operating conditions. A small amount of regular maintenance can go a long way to extending your tractor's original battery lifespan.
Tractor Battery Lifespan
It can be hard to say precisely how long your tractor battery will last. Unfortunately, batteries do not come with an expiration date or a definite lifespan. It can be like asking a person, "how long is a piece of string?"
It's not a problem that you generally have to worry about until the day it dies. And at that point, you wish you had paid more attention to it.
This article will take you through a few essential tips to ensure you get the most out of your tractor battery's lifespan.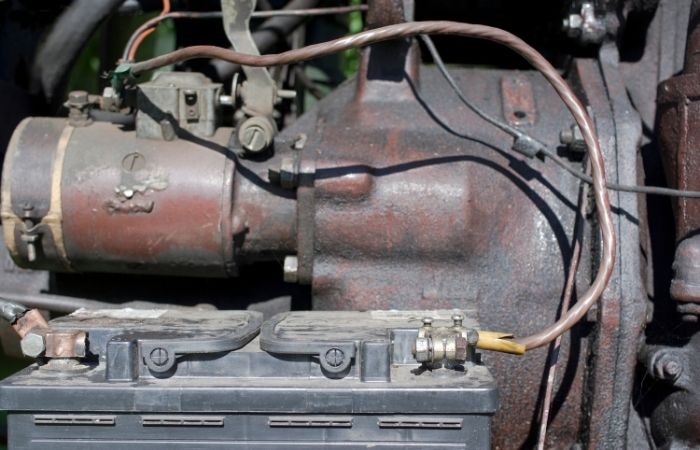 Types Of Tractor Batteries
The lead-acid battery is the most common battery type found in tractors which consist of lead alloy plates suspended in sulphuric acid. This is a rechargeable battery that can be charged with a battery charger.
Some new battery types are establishing themselves now, such as the AGM battery (absorbed glass mat) or the lithium-ion battery (Li-ion battery).
The numbers on the side of the battery indicate the battery's amp hours and cold cranking amp. The battery amp hour is a formulated rating for how much capacity the new battery should have to store usable energy.
On the other hand, the cold-cranking amp indicates the available current by the new battery for 30 seconds at a low temperature, usually – 18 degrees celsius.
Riding Lawn Mowers
Your lawn mower will have a battery too. A standard lawn mower battery would be your typical 12-volt battery, found in most cars. A smaller riding mower may have a smaller 6-volt battery.
The power needed to crank your lawn mower engine is created by the lawnmower battery. Once running, the battery is continuously powered by the lawn mower's recharging system.
It's generally believed that a riding lawn mower battery lasts for about four years. It will start to hold less charge as it comes near the end of its lifespan, and a considerable difference will become noticeable when using the lawnmower.
If your lawnmower battery is beginning to fail, the first port of call should be to check the alternator and voltage regulator. These components are essential parts in the battery recharging process, and replacing them may help improve your lawn mower battery recharge and increase the battery lifespan.
Tips To Improve Your Tractor Batteries Longevity
Test Battery Voltage Regularly
It's a speedy and straightforward piece of advice, but it could be the difference in preventing that breakdown or failure from starting when you need your tractor most.
This should be already getting carried out at each service by a qualified mechanic. As your old battery starts to shove on in years, you may wish to test it more regularly, which can be done with a simple home test device known as a voltmeter.
The AstroAI Multimeter is an excellent digital voltmeter to start with if you wish to check your tractor batteries. It's a versatile voltmeter that is safe to use.
This test is best carried out twelve hours after last using your tractor for the most accurate results. Connect your positive and negative terminal to the corresponding voltameter leads, and a voltage reading will be shown.
If your voltage reading appears outside the recommended range for your particular battery, then it is a strong indication that your old battery is declining.
Storage and Handling
A couple of weeks of inactivity for your tractor may be enough to prevent your original battery from recharging. This could leave you with a dead battery the next time you go to use your tractor. Even starting your tractor once a week would be sufficient to help charge your tractor battery.
Suppose it has gone dead from lying idle too long. In that case, you'll have to recharge the tractor's dead battery by using a battery charger before using it again.
The battery charger should always be turned off while connecting to the battery to avoid any accidents.
Regular Cleaning of Your Battery
Leakage leading to a short circuit is a common problem with batteries. This is generally caused by a buildup of dirt, grime, or dampness, especially around the positive and negative terminals. A dry cloth once a month will remove all of this superficial dirt, keeping your battery in top running order.
A more challenging problem to avoid is corrosion on old battery terminals or the battery lead clamps. This can seriously restrict the battery's flow of electricity. Keeping your battery dirt and corrosion-free is essential to the battery's efficiency and overall lifespan.
Thankfully it is a straightforward maintenance routine and does not require the assistance of a mechanic once you're comfortable that you know what you are looking at.
Draining Battery Power
Using any electrical facilities on the tractor while the tractor is not running will drain your battery, also known as causing a deep cycle. A continuous deep cycle battery may lead to permanent damage and a need to seek a replacement battery.
The lights, radio, and cigarette lighter may be convenient to use at different times by just turning on the ignition, but this is causing a drain on the battery.
When the engine is not running, the alternator is off, which means electronic accessories will draw power from the tractor's battery.
To avoid running down the original battery while not using the tractor, you should get into a habit of checking there are no electrical accessories still drawing power. This will help you to avoid the need for jumper cables.
Professional Opinion
We can do all the checking, cleaning, and testing we want. Still, the most reliable way of ensuring you avoid a breakdown caused by a dying tractor battery is to keep up your regular servicing and have the garage mechanics professionally assess it.
Professional mechanics will also assess other parts of the tractor's electrics system, such as the voltage regulator, which all work in tandem with one another.
Their expertise and years of experience will allow them to monitor your original battery appropriately. Your tractor's garage service recommends a suitable time to change it with a replacement battery to avoid a breakdown.
Our two-year-old battery may have come to a premature end eleven years ago, thanks to some battery thieves. Still, most should serve you and your farm reliable for many more years.
As we saw throughout the article, some simple maintenance checks and routines can go a long way to prolonging your tractor battery's lifespan, especially with some professional supervision at service time.
How Not To Remove Your Tractor Battery
The very mention of a tractor battery only ever brings one memory hurtling to mind for me. Having purchased our new John Deere tractor in 2008, we were very proud of ourselves and our latest 120 horsepower purchase.
One April morning, the tractor was barely two years old when my father passed into the yard as he would have done most mornings. The John Deere was standing pride of place outside our milking parlor.
He headed down to the cow pasture to bring the cows in for morning milking. The milking time would generally take him somewhere in the region of one hour and thirty minutes to complete. However, when he emerged from the milking parlor on this particular morning, something immediately caught his eye.
Our tractor had not budged an inch, and no service or maintenance had been planned for that day. Yet the tractor bonnet was cocked upright, revealing its mighty engine in all its glory. You can imagine how puzzled my father was.
Suspecting a stray gust of wind or a faulty latch, he approached it to close the bonnet until he noticed one glaring omission. Missing from the front of the engine block was our tractor battery. As it turned out, a daring set of thieves had entered the yard and stolen the original battery out from under our noses.
Instead of opening the brackets and removing the original battery, they had elected to cut all the wiring looms with bolt cutters in their haste.
In doing so, they caused over $3,500 of electrical damage as the original battery had been wired up to the tractor's computer system.
Perhaps this particular bunch of thieves could have benefitted from an article on removing a tractor battery!!
Related Questions
Why Does My Tractor Battery Keep Dying?
Battery age coupled with storage conditions and failing recharging components are all causes of battery failure. To prevent this, monitor your battery throughout its lifetime with regular testing, store it appropriately, make sure it is regularly working, and check recharging parts such as alternator and voltage regulator if the battery is beginning to give trouble.
Which battery is best for a Tractor?
While the lead-acid battery is the most common type found in tractors, AGM and lithium-Ion batteries are becoming increasingly popular.
How Do I Know If My Battery is bad?
Your battery can be tested with a voltameter to measure what range of power it is still capable of providing for your tractor.
Will a Tractor Start With a Bad Alternator?
The likely answer is no. A poor or faulty alternator means that your tractor's ability to recharge the battery is compromised. Your tractor battery will therefore not have the power capacity required to start the tractor. Replacing the faulty alternator should fix this problem.
Our two-year-old battery may have come to a premature end eleven years ago thanks to some bad people, but most should serve you and your farm reliable for many more years. As we saw throughout the article, some simple maintenance checks and routines can go a long way to prolonging your tractor battery's lifespan with some professional supervision at service time.