Cows will show affection to humans they can trust in several ways, such as following you, mooing at you, licking you, and playing with you.
Cows Showing Affection
Cows are extremely curious animals, and similarly to dogs, they will build up an affectionate relationship with a human they can trust.
It is almost hard to comprehend such a big beast having such a gentle personality.
My own experience is with dairy cows, who are more docile than your typical beef breed cattle such as Limousines or Charolais.
But cows are far more intelligent than we often give them credit for.
Let's take a look at how exactly a cow would show affection towards you.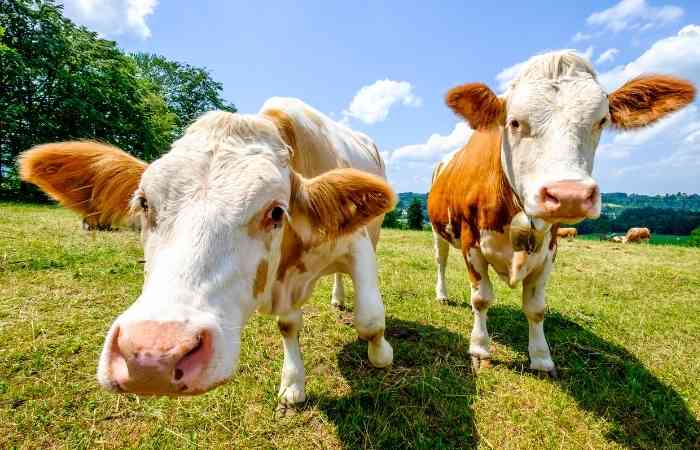 How To Identify Affection From Cows
Cows Following You
Curiosity often gets the better of a cow.
It is fascinating how they appear to tell the difference between the farmer they are used to and a stranger who may enter the pasture or barn.
They will remain calm and keep going about their own business around a good farmer.
However, a stranger will cause the cow to get her guard up and watch this person as they move about the herd.
A cow interested in you will follow you around and shadow you to pursue affection or perhaps investigate you.
Please don't mistake it with a greedy cow that may be used to you feeding them and following you, after some extra feed.
A cow following you with an affectionate manner will approach slowly and walk calmly behind or alongside you.
Petting A Cow
Cows love to be petted by humans they trust, although they are cautious of any similar gesture from a stranger or anyone they perceive to be a threat to them.
A good scratch behind their ear or rub on their head will please a cow and help grow the human bond.
I often notice how individual cows will come in search of being petted by walking up and rubbing their head against me in the barn.
A Mooing Cow
We all know that cows communicate in the herd by mooing. A happy cow that is used to human interaction will also communicate with you by mooing.
It is a very distinctive moo they use with you, where the tone is low and very calm. This is due to the pleasure that the human interaction brings to the cow.
Getting Licked By A Cow
Cows will use their tongues like we would use our hands.
Given that cows are sociable animals, a cow's lick is an affectionate way for her to accept you into their herd. They practice this type of social grooming.
As a dairy farmer, I see it every year with dairy cattle.
Once the calf is born, instinct kicks in, and the new mother cow stands up immediately and begins licking the calf to welcome them into the herd.
Cows Playing With You
A cow that's comfortable enough to drop her guard may begin to play with you.
It will do this by rubbing or nudging you with their head and displaying a generally exciting type of manner.
This shows us the emotional lives cows live and the role we play in it as humans.
Human And Cow Connection
The sociability of cows allows them to bond so well with humans they wish to accept into their herd.
Cow behavior is a fascinating topic and something we learn more about as the years go by.
Let's touch on the broader subject of cow behavior and learn a bit more about the cow's personality.
Cows Are Animals Of Habit
It's no secret that cows are incredibly sociable animals. Still, it might not be as widely known because they are also creatures of habit.
When walking to and from pasture, cows will pick their steps to find the best path for them, and most of the herd will meander along the same direction as it twists and turns towards the barn.
A simple example shows how the majority put their faith in the herd leaders for all sorts of tasks.
I see it here personally with the milking robots.
It is incredible to see fresh heifers watch older cows' milk. They start to pick up the habit of it themselves, of going to the milking robot and allowing it to milk them before they head out to pasture.
Our cows must also pass one another on the cow roads.
The cow with an udder full of milk moves towards the milking barn. In contrast, the freshly milked cow moves in the opposite direction towards the pasture, and neither bats an eyelid.
They are all in the habit of milk first, then head for grass.
Cow Preferences
Each cow also seems to have their preferences.
Some will lie in the same stall religiously. Others will only eat at the same spot at the feed barriers. More will only milk in a particular robot or on conventional farms ensure they entered the parlor at a specific time or a specific side.
The habits they build without any human guidance or intervention are genuinely fascinating and show how significant their preferred habits play in a cow's daily life.
Related Questions
How do you get a cow to trust you?
Cows actively seek affection and will return it to anybody who shows it to them. Having good animal welfare practices in place on farms leads to positive human interaction for the cattle. They will mirror this in the cattle behavior expressed towards the farmer.
How do you act around a cow?
Calmness is essential when it comes to human behavior around your cows. Moving slowly and quietly through the herd without sudden movement is the only appropriate way to act around cattle.
If you "spook" your cattle by startling them, they will remember this and will associate you with danger the next time you approach them.
An older cow will, in general, be calmer and lazier, therefore, making them harder to scare. But younger cattle will spook easily and remain flighty with any sighting of you in the herd for years to come.
This would be an unfortunate trait of factory farms where milk production or meat production is the primary goal.
 
Often staff turnover is high, and cows don't get the chance to bond with people like they would on a family farm.
Although cows may be considered somewhat domesticated animals, most cattle in the herd would still be wild animals and should be treated as such. 
Their sheer size makes them dangerous to any human, especially around calving time when a cow's natural maternal instincts kick in.
I have not seen the same type of affection from a bull, who can also pose a severe threat to a farmer at any stage of the year. Even though some bovines show affection towards humans, we cannot expect it from all for your safety.
Do cows recognize their owners?
It would appear that cows can identify their owners or regular handlers at least. It is possible that for most, they associate the farmer with feed and will follow them around or moo at them in anticipation of some.
For a small number of cattle in the herd, there is an extreme possibility that they associate the farmer with affection from positive previous experiences and wish to replicate that.
Do cows understand humans?
Yes, cows can understand humans. I'm not romanticizing the idea that we can speak with cows. But they can appreciate other forms of communication through gestures and body language.
Cattle understand we are trying to move and direct them when being hunted. 
In the pasture or the handling pasture, cattle will identify and move through the gap that the farmer is trying to encourage them through.
It is, of course, a straightforward communication method, but one that has been in practice for several hundred years. 
Similarly, Sheep cannot bark but can still be guided by a good dog through tone and body language.
Putting out your hand to pet or offer feed to cattle is another method of communication. This lets the animal know that you are not a threat and will put them at ease in your company.
Trusting Larger Animals
While you can build an affectionate relationship with your favorite cow or friendliest few, the idea of all cows being affectionate should not be taken for granted.
Cows are still big, strong creatures and much more so than any human.
An inexperienced person trying to get an unknown cow to behave a certain way will most likely endanger the human and the cow.
As was said above, a male cow (known as a bull) is a hazardous animal at all times and should be treated like such.
Cows themselves can also be extremely dangerous, especially after giving birth.
It can take several months of daily contact for a cow to become familiar with a farmer and build that affection. However, It may not be in every cow's personality to wish to do so.